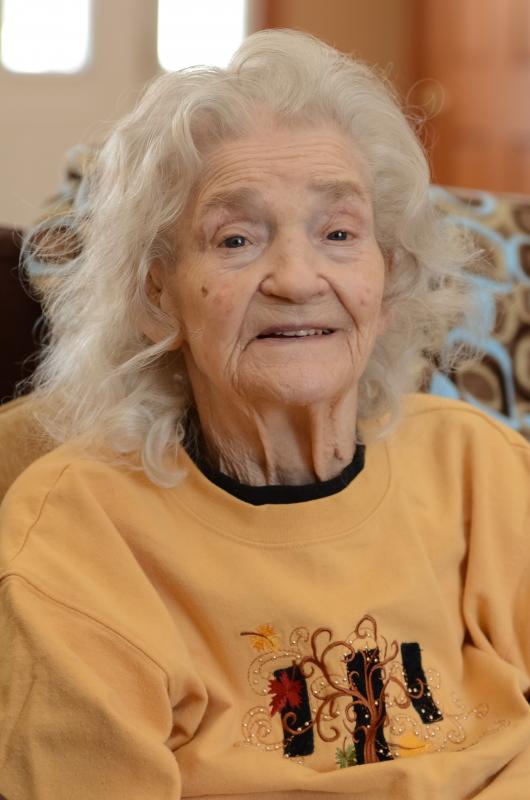 Vivian Theo (Annis) Smart, born May 15, 1927, in Gardiner, Maine, to Merl B. and Alice (Cook) Annis, passed away on Sunday, August 16, 2020, at the age of 93, while a resident at Westgate Center for Rehabilitation and Alzheimer's Care, Bangor, Maine. She was the middle child of ten siblings.
In addition to her parents, Vivian was predeceased by her husband, Russell Smart Sr., and a son Russell Smart Jr.; and a very special sister-in-law Marlene Smart; her sisters Bernice Jones, Muriel Taylor, Helene Phinney, Mereta Littlefield and Marilyn Chase; and grandchildren Mike Smart and Darren Smart.
Our MOM will be deeply missed by her surviving children: Kenneth Smart and wife June of Frankfort, Maine, Gloria Boynton and husband Elwin of Prospect, Maine, Alvin and wife Carol of Prospect, Maine and Arline Lamarche and husband Brian of Prospect, Maine; and daughter-in-law Sharon Smart of Las Cruces, New Mexico; brothers and sisters Merl Annis of Prospect, Maine, Leon Annis and wife Margene of Swanville, Maine, Patricia Reed and husband Theodore of Belfast, Maine and Joyce Feero of Old Town, Maine.
She will be missed by many loving grandchildren, great grandchildren, great-great grandchildren, nieces, nephews, cousins, and countless friends.
Vivian worked many years as a waitress at Mary's Restaurant in Searsport and worked at several other restaurants over the years. She owned a couple restaurants of her own including the Wild Goose Restaurant in Frankfort and Vivian's Restaurant in Belfast. She regretted never completing high school, however, in 1982 she graduated from Maine Vocational Region No. 7 Adult Education, Searsport division after going back to school and received her diploma. She also had a lot of home parties selling merchandise, including Avon, and loved visiting with friends and family.
There was always something cooking in her kitchen. Over the years she did a lot of canning, cooking and baking, and her doughnuts were the best around. The family gathered many hours at her home and never went away hungry. She was always ready for a hot cup of tea and conversation with her sisters and brothers. She loved her family. She was an animal lover and always had cats and dogs, but Betsy-dog will be the one that will always be remembered as her favorite.
She was a member of the Veterans of Foreign Wars (VFW) Auxiliary in Belfast, Maine and participated in many of the veteran's events, fundraisers and parades. She loved to sing and yodel, and dance.
Vivian had a pen pal in England who she corresponded with for over 64 years. She started to write to women in England during World War II whose names she found in a magazine and over the years she kept in touch with this one special lady. Vivian and Dora Webster wrote to each other several times a week, sending letters, pictures and gifts. She got to visit Dora and her husband Conrad while her son Alvin and his family were stationed in England. Her daughters Gloria and Arline accompanied her on the journey. It was a trip of a lifetime to see her friend.
The family would like to extend their gratitude to all the staff at Westgate Center for Rehabilitation and Alzheimer's Care for all their attentiveness and loving care.
A memorial visitation will take place Friday, August 28, 2020, at 1 p.m., with a memorial service immediately following at 2 p.m., at Riposta Funeral Home 182 Waldo Ave, Belfast. Please note that due to the on-going pandemic masks are required and we are limited to 50 people inside the funeral home at a time, so you may be asked to wait outside for some period of time.
Memories and condolences may be shared with the family at www.ripostafh.com.