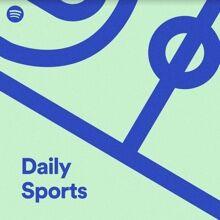 Spotify is making a move to get more out of the hundreds of millions of dollars it has invested in sports spoken word content. It is creating what it calls a "mixed media" playlist for sports fans that will include a combination of sports-focused podcasts alongside familiar personalized music recommendations. "Our dedicated team of experts curate the MVP of sports podcasts and shows, and our unique algorithms create a personalized mix of music to get you in the mood," the company said in an announcement on Monday.
Spotify made a significant investment in sports content earlier this year when it struck a deal to spend as much as $195 million to buy The Ringer. The Ringer was founded by former ESPN commentator Bill Simmons in 2016 and the company says it now has more than 100 million downloads per month, led by The Bill Simmons Podcast, which is hosted by the company's founder. Dawn Ostroff, Chief Content Officer at Spotify, said he saw The Ringer as a cornerstone in the company's "global sports strategy."
Simmons' podcast will be a pillar podcast on Daily Sports according to Spotify, with other shows including Sports News Minute with Larry Brown, ESPN Daily, and The Lead also featured. There will also be daily sports updates. Spotify users will find the feature on either their Made For You hub or the dedicated Sports hub on the app.
Sports has emerged as one of the hottest streaming trends. Last year iHeartMedia rolled out iHeartRadio Sports, a website that aggregates content from sports podcasts, nearly 200 local sports radio stations, content from the company's syndicated Fox Sports Radio Network, and a long list of in-house personalities. Entercom did the same thing last August when it debuted the Radio.com Sports Digital Network with a mix of daily live sports talk programming and more than 75 hours of original podcast content weekly.
Daily Sports is the third mixed-media playlist created by Spotify. Last summer it debuted Your Daily Drive geared toward commuters, and Daily Wellness, that includes several meditation-focused shows.
The linking of music and podcasts isn't unique to Spotify. In February2019 iHeartMedia announced it would use thousands of data points to power a new podcast recommendation feature on its iHeartRadio app. It uses information like what type of music or artists someone listens to and songs that they've thumbed, as well as several components that leverage radio habits. That includes not just what market they live in, but what stations and morning shows they tune to.
Pandora has also created what it has billed as the Podcast Genome Project to help listeners dig through that catalog. Similar to how its Music Genome Project serves music to listeners, the Podcast Genome Project is a cataloging system and discovery algorithm that uses a combination of technology and human curation. It relies on more than 1,500 attributes such as production style, content type, host profile, timely and evergreen topics, and listener signals including thumbs, skips and replays, to deliver personalized podcast recommendations.