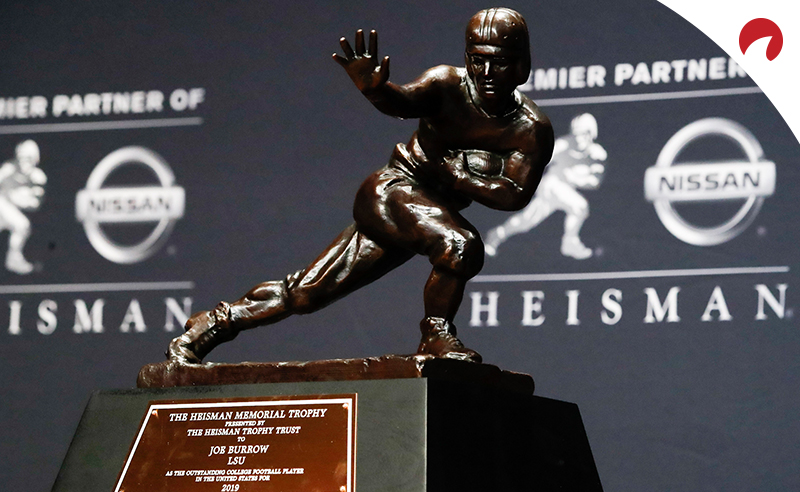 One week after Miami QB D'Eriq King had the shortest 2020 Heisman Trophy odds, Clemson QB Trevor Lawrence regained his position atop the oddsboard. The two squared off in Week 5 with Lawrence winning that battle decisively.
With fewer games than normal at this point in the season and the Big Ten deciding to play a shortened campaign that will commence in late October, the Heisman Trophy odds may be a runaway train for Lawrence before the Big Ten and Pac-12 begin.
Online sportsbook Bovada has listed Lawrence as the favorite at +110, followed by Justin Fields at +600, Mac Jones at +700, Jaylen Waddle at +1000 and Stetson Bennett at +1000 to round out the top five players in the 2020 Heisman Trophy odds.
See Odds Shark's Best NCAAF Sites
Heisman Trophy Betting Odds
| Player | Odds |
| --- | --- |
| Trevor Lawrence (Clemson) | +110 |
| Justin Fields (Ohio State) | +600 |
| Mac Jones (Alabama) | +700 |
| Jaylen Waddle (Alabama) | +1000 |
| Stetson Bennett (Georgia) | +1000 |
| Kyle Trask (Florida) | +1400 |
| Najee Harris (Alabama) | +1600 |
| Travis Etienne (Clemson) | +2200 |
| Zach Wilson (BYU) | +3000 |
| D'Eriq King (Miami) | +3300 |
| Trey Sermon (Ohio State) | +3300 |
| Ian Book (Notre Dame) | +4000 |
| Sam Howell (North Carolina) | +4000 |
| DeVonta Smith (Alabama) | +5000 |
| Sean Clifford (Penn State) | +5000 |
| Chuba Hubbard (Oklahoma State) | +8000 |
| Sam Ehlinger (Texas) | +8000 |
| Tanner Morgan (Minnesota) | +8000 |
| Adrian Martinez (Nebraska) | +10000 |
| Jarrett Guarantano (Tennessee) | +10000 |
| Kellen Mond (Texas A&M) | +10000 |
| Seth Williams (Auburn) | +10000 |
| Spencer Rattler (Oklahoma) | +10000 |
Odds as of October 13 at Bovada
New to betting on college football? Be sure to take a look at our CFB betting guide to help you get in the action. Also, keep an eye on our college football odds page for the latest up-to-date betting lines.
Mac Jones Continues To Climb The Oddsboard
If you locked in a Mac Jones 2020 Heisman Trophy ticket at +2500, how much sweeter does that look two weeks later at +700. Of course, an Alabama QB is going to get some love for the Heisman Trophy odds because the team has a good chance to go undefeated year in and year out and recently, the Tide have shifted from being only a defensive powerhouse to racking up the points as well.
Jones has hurled the pigskin effectively in 'Bama's two wins thus far, completing 79.5 percent of his passes, averaging 367 yards and throwing eight touchdowns to just one interception. The junior QB will be tested this week as Alabama hosts defensive-minded Georgia.
Lawrence or Fields, Which QB Has The Edge?
The 2020 Heisman Trophy race could be a coin flip between Trevor Lawrence and Justin Fields as both players have tremendous skills and the potential to lead their team to a perfect season and a national title.
Trevor Lawrence
Clemson QB Trevor Lawrence has just one loss on his college record, leading the squad to a national championship in his true freshman season and falling in the national title game in 2020. Another year of growing mentally/physically and the sky is the limit in the 2020-21 season for Lawrence.
The only thing that holds him back from winning the coveted award is the conference in which he plays. The ACC isn't exactly known as a world-beater in the college football sphere. So, outscoring your opponent by 25-plus points every weekend for a perfect regular season doesn't seem to impress the voters as that's what he has done twice already.
The junior quarterback has started 2020 on fire, completing 72.4 percent of his 116 pass attempts with an average of 9.8 yards per completion and tossing 10 touchdown passes without an interception in four decisive victories. The Tigers most recently knocked off Miami 42-7, and Hurricanes QB D'Eriq King, who was the Heisman Trophy favorite in Week 4, fell from +600 last week to +3300 this week.
All things considered, when you look at the body of work Lawrence has put together in his college career, it'll be hard to take votes away from him come December.
Justin Fields
There was perhaps nobody more excited to hear the Big Ten news than Ohio State signal-caller Justin Fields. The junior QB, who transferred from Georgia, had a strong 2019 campaign that saw him complete 67.2 percent of his 354 pass attempts with a remarkable 41:3 touchdown-to-interception ratio – two of those picks came in a narrow 29-23 loss to Clemson in the CFP semifinal.
In my opinion, the one thing that may hinder Fields' chances of being named the Heisman Trophy winner is that he will only have eight games in which to state his case. However, he will have a couple of opportunities to show up on big stages: at Penn State in the second game and closing the season at home to Michigan.
Had Ohio State knocked off Clemson in last year's CFP semifinal, it may have given Fields a slight edge over Lawrence. But with a reduced schedule and given the choice between the two at even odds, I'd take the Clemson QB.
Is There A Dark Horse Worth A Look?
I would talk more about Mac Jones but he's already been covered and realistically the three men at the top of the oddsboard – Lawrence, Fields and Jones – will likely be the finalists this year. However, I'm going to key in on Clemson again, and someone who could hurt Lawrence's chances is his teammate, running back Travis Etienne.
The senior tailback is coming off a game in which he racked up 222 all-purpose yards with two touchdowns. He is averaging his fewest yards per rush, though 7.0 YPC is nothing to sniff at, while his average yards per reception is at a career-high 14.4. With Clemson beating up on opponents, there are more opportunities for Etienne to pad his stats as the Tigers kill the clock and at +2200 he may get some love from the voters.
Heisman Trophy Historical Odds
By now, everyone is aware that LSU Tigers quarterback Joe Burrow won the Heisman Trophy in 2019 and was selected first overall by the Cincinnati Bengals in the NFL draft. But did you know his odds to win the award prior to the start of the season were +4000?
That's the best part of betting on this prop. Players can be huge underdogs before the season starts and emerge from nowhere to take the spotlight. At some sportsbooks, Burrow wasn't even listed as a Heisman candidate until after LSU's second game.
Here at Odds Shark, we have compiled the opening and closing odds for every Heisman winner dating back to 2009, when Alabama's Mark Ingram took home the hardware. These odds are courtesy of sportsoddshistory.com.
Here are the opening/closing betting odds along with the preseason favorite for the Heisman Trophy since 2009:
Heisman Trophy Odds History

| Year | Winner | Preseason Odds | Closing Odds | Preseason Favorite (Odds) |
| --- | --- | --- | --- | --- |
| 2019 | Joe Burrow | +4000 | -12500 | Tua Tagovailoa (+250) |
| 2018 | Kyler Murray | +3000 | +700 | Tua Tagovailoa (+400) |
| 2017 | Baker Mayfield | +700 | -1800 | Sam Darnold (+500) |
| 2016 | Lamar Jackson | +10000 | -1350 | Deshaun Watson (+450) |
| 2015 | Derrick Henry | +2500 | -465 | Trevone Boykin (+650) |
| 2014 | Marcus Mariota | +425 | -1500 | Marcus Mariota (+425) |
| 2013 | Jameis Winston | +600 | -15000 | Teddy Bridgewater (+450) |
| 2012 | Johnny Manziel | N/A | -1000 | Matt Barkley (+300) |
| 2011 | Robert Griffin III | +2800 | -1000 | Andrew Luck (+325) |
| 2010 | Cam Newton | N/A | -450 | Mark Ingram (+450) |
| 2009 | Mark Ingram | N/A | -250 | Tim Tebow (+225) |
---
Making a Futures Bet
A futures bet is a wager made on events or milestones that will happen in time. The Heisman bet is a form of futures betting because you are making a pick based on an outcome determined at the end of NCAA football season. The trophy is given out in mid-December and if you want to get a bigger payout, it's best to lock in your bets sooner rather than later so you can take advantage of better odds. The closer it gets to Heisman voting, the more the odds will change.
How to Read Heisman Trophy Odds
The above chart features the odds for each top player in college football. At your sportsbook of choice, the betting lines would look something like this:
Trevor Lawrence +275
Justin Fields +400
Bo Nix +2600
This means that Lawrence is the favorite since he has the lowest odds and the highest chance of winning the prop, according to oddsmakers. If you were to bet $100 on Lawrence and he won, you would get a payout of $375 – your original $100 is returned along with your winnings of $275.
On the other hand, if you strongly believe that Bo Nix is going to outdo himself at Auburn and give the performance of a lifetime, a winning $100 bet on him would yield $2,700 – your $100 comes back along with your prize of $2,600.
Our Odds Calculator will show you how much you'd win based on the odds and amount bet.
Handicapping Your Heisman Bet
We have the goods to ensure that you can make smart picks. Check out our college football pages to give you the edge over other bettors:
• Odds
• Futures
• Free Picks
• Consensus
• Scores
• ATS Standings
• Offensive Stats
• Defensive Stats
• Game Logs
• Betting Trends
• Power Rankings
• Betting Tutorial