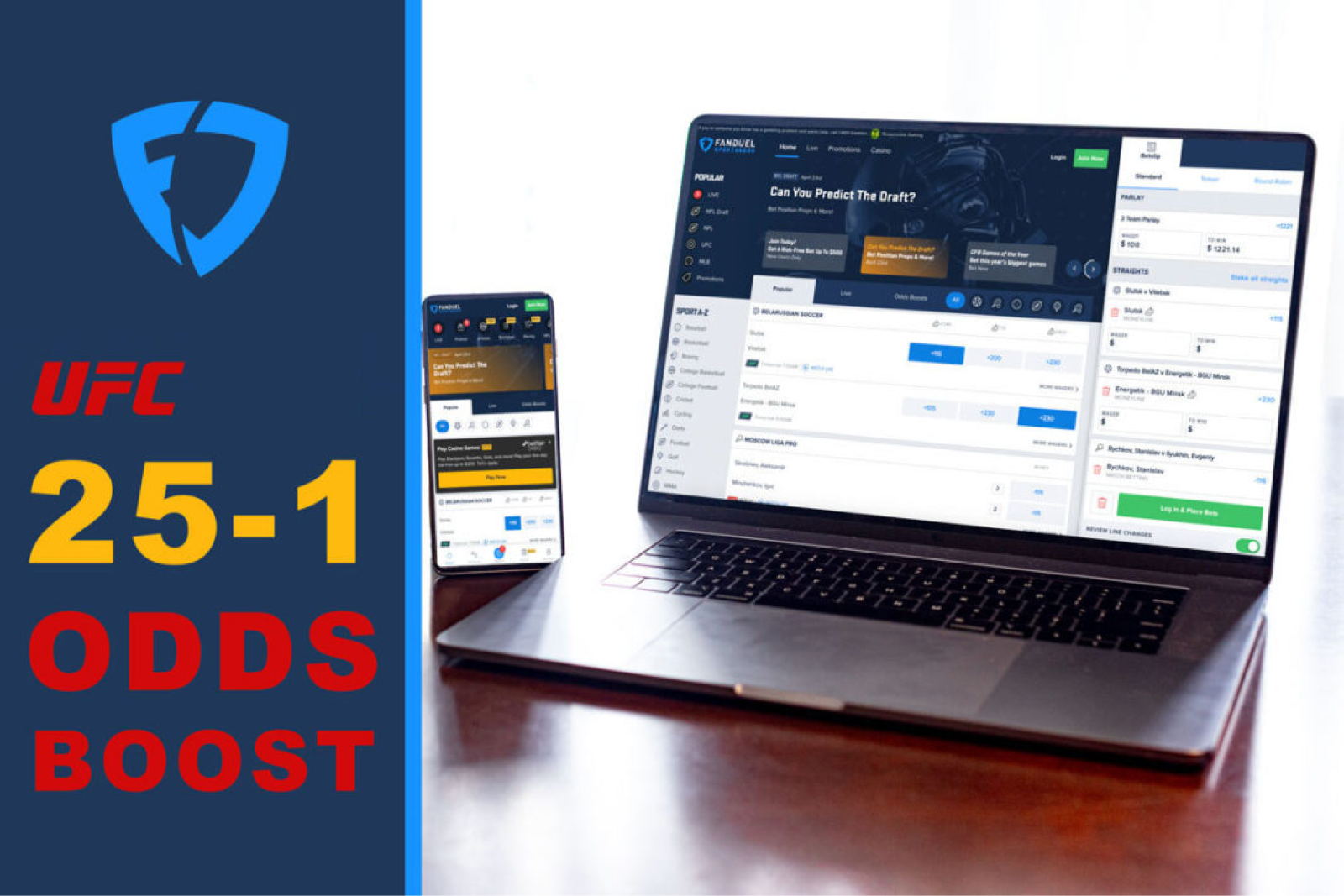 UFC 254 is almost upon us and FanDuel Sportsbook is delivering an absolutely lights-out promo offer along with plenty of ways to bet on all of the action.
New players who sign up for FanDuel Sportsbook today in states such as Colorado, as well as other states where FanDuel is available, can grab awesome 25-1 UFC 254 odds on either Khabib Nurmagomedov or Justin Gaethje to win their Main Event fight on Saturday afternoon. Though Khabib enters as a significant moneyline favorite over Gaethje, these +2500 odds represent significant value on both fighters.
Click here to get 25-1 odds on the UFC 254 Main Event with FanDuel Sportsbook.
FanDuel Sportsbook UFC 254 25-1 Odds Promo
While Week 7 NFL action is almost here, the World Series marches on, and a full slate of college football is on the board today, the headline event in the sporting world is no doubt UFC 254. Unquestionably, its marquee fight is between Khabib and Gaethje. That's why FanDuel Sportsbook is going all in by offering awesome 25-1 (+2500) odds on either fighter to win.
Let's quickly break down the value of this offer.
Currently (as of Saturday morning), Khabib Nurmagomedov is a -330 moneyline favorite over Justin Gaethje (+265). In order to win $125 on Khabib at the market odds, a bettor would have to wager a whopping $412.50.
However, with this offer from FanDuel Sportsbook, new players can wager just $5 on Khabib to win $125. This means they would save $407.50 to score the same payout, meaning that we are talking about crazy value here and a deal that simply can't be passed up if you're looking to bet on UFC 254.
While applying this 25-1 odds boost on Gaethje doesn't provide as much value, it remains notable. Typically, a $125 payout would require a $47.17 wager, so in this case, a bettor would save roughly $42 dollars to secure the same payout.
Regardless, this offer, which should attract significant attention, presents plenty of flexibility.
How To Get 25-1 UFC 254 Odds at FanDuel Sportsbook
Getting these odds is easy. New players can download the FanDuel Sportsbook app by clicking right here.
Make a $10 deposit into a sportsbook account by utilizing one of several popular online banking methods. FanDuel will automatically present the promotional odds where the normal odds would live. It will also be the top market available, so it will be easy to find. Desktop players can sign up by using the links of this page, but will need to download the mobile app after completing the registration and deposit process.
This offer is capped at a $5 max bet, but at such crazy odds, it still means big value and a potential big payout in states such as PA, IN, NJ, CO, among others.
UFC 254 Odds and Betting Markets
FanDuel Sportsbook is offering several super boosts for UFC 254:
Meanwhile, FanDuel Sportsbook offers a variety of method of victory props, round props, how fight will end props, and time props.
Click here to get 25-1 odds on UFC 254 with FanDuel Sportsbook.