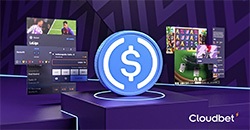 Cloudbet, the pioneering crypto sportsbook and casino, has added USD Coin to the portfolio of coins available to customers, marking the operator's second major stablecoin integration after launching USD Tether in May. New players who deposit USDC with Cloudbet are eligible for a welcome bonus worth up to 1000 USDC. Customers can buy the coin on the site with their credit cards or Apple Pay.
With the integration of USDC and USDT, Cloudbet now supports the biggest coins in the stablecoin universe, with a combined market value of US$18 billion. For crypto gaming, stablecoins have been put forward as a solution for players seeking to protect the value of their cryptocurrency winnings from the extreme fluctuations in price experienced by holders of non-stablecoins.
As with USDT, because USDC's value is fixed on a 1-to-1 basis with the US dollar, the fiat value of winnings of the coin does not fluctuate along with cryptocurrency market prices. For this reason, stablecoins have been offered up as the key to convincing a more fiat-friendly audience to experience the benefits of cryptocurrency gaming.
A spokesperson for Cloudbet stated: "Since launch, a fundamental part of our philosophy has been about empowering players with technologies that solve their problems. Stablecoins are an extension of that."
Cloudbet supports USDC on the Ethereum blockchain. The coin was introduced by the Centre Consortium, an organization co-founded by Coinbase and Circle, in part to provide a governance framework and network for the mainstream adoption of fiat-backed stablecoins.
The new coin amplifies what's on offer at Cloudbet for players seeking the best odds and highest limits for crypto betting from the comfort of their homes or on the go. Since it relaunched its website in April, the operator has unveiled a swathe of bold new features to attract a more diverse audience, including esports, politics betting, and easy credit-card coin purchases.
Founded in 2013, Cloudbet is one of the world's longest established bitcoin betting operators. The site also accepts ethereum and bitcoin cash, with more coins slated for release this year, the spokesperson said.
The operator grabbed the attention of industry observers in June with an ambitious English Premier League campaign, under which its sportsbook charged no margin on pre-match bets for all games left in the season. That allowed customers to access the fairest prices — and therefore the highest returns — in the market.
The campaign was an extension of Cloudbet's long-standing "best odds" campaigns on sports including soccer, basketball and tennis.