September 20, 2020
Chad Holloway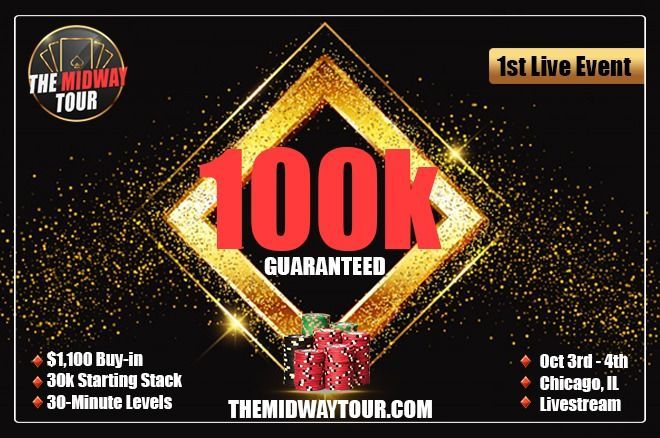 From October 2-4, the newly-formed Midway Poker Tour will host its inaugural event in the Chicagoland area. The tournament, which will be live reported by PokerNews, will take place at the Sheraton Suites Chicago Elk Grove in conjunction with the 4 K.I.D.S. Sake charity.
The $1,100 buy-in, $100K GTD Main Event will feature 30-minute levels on Day 1 and 40-minute levels on Day 2. Players will start with 30,000 in chips, and re-entries and best-stack forward will be in effect.
Day 1A will take place at 2 p.m. local time on Friday, October 2, while Day 1B will be at Noon on Saturday, October 3. The surviving players from both flights will then return at 11 a.m. on Sunday, October 4 to play down to a winner. Players must be 18+ years of age to participate.
Not only will the action be reported by PokerNews, there will also be a live stream from the event. On Wednesday and Thursday leading up to the tournament, cash games will be offered and streamed. On Day 1, a feature table will be broadcast, and of course, the Day 2 finale table will be streamed.
Players can book a room at the Sheraton for as little as $89/night.
Q&A w/ Dan Bekavac
The Midway Poker Tour was conceived by Dan Bekavac, a Midwest poker player with more than $290K in lifetime tournament earnings. That includes two MSPT titles, one of which was the 2019 MSPT Potawatomi Main Event for a career-high $126,998.
PokerNews had the chance to catch up with Bekavac leading up to the introductory event.
PokerNews: When and how did the Midway Poker Tour come to be?
"We will be the first and only mid-major poker tour to stream their event live from the beginning to the end of the event."
Bekavac: We've been developing an app that is basically Facebook for poker players since 2017, so the idea of the live tour has been being kicked around since then. We are getting closer to launching the app so now is the perfect time to get our live tour off the ground.
What sort of COVID-19 precautions will be taken during the event?
To help keep everyone safe, we are hosting the event in four separate banquet halls and we are limiting each room to five tables of nine players. All players will be required to wear a mask and hand sanitizing stations will be in each gaming room.
What sort of things have you had to do to prepare for this event?
We've had custom tables and chips made for the charity, as well as a custom RFID table, as we will be the first and only mid-major poker tour to stream their event live from the beginning to the end of the event. We've had to navigate through the Illinois charity gaming regulations to make sure we are 100% in compliance. As well as reach out to many marketing teams and companies to start getting the word out on our new tour.
What do you envision for the future of the Midway Poker Tour?
We created this tour with the concept of, "For Players, By Players". Giving the players what they want, treating them well and offering them what doesn't exist now with other tours. We will be the biggest mid-major poker tour by the end of 2021
Are there any confirmed players who will be in attendance?
Well-known players who have 100% confirmed are…
| | | |
| --- | --- | --- |
| Aaron Massey | Ralph Massey | Kevin Saul |
| Ravi Raghavan | Nick Pupillo | Gary Herstein |
| Pat Steele | Brad Sailor | Michael Kamenjarin |
| Paul Fischer | Todd Sladek | Andy Rubinberg |
| Andy Rogowski | Ryan Phan | Donnie Phan |
| Alan Cutler | Cody Brinn | Rob Edelstein |
| Ben Keeline | Kenny Nguyen | Pauly "Walnuts" Bianchi |
Click here for more information on the Midway Poker Tour!